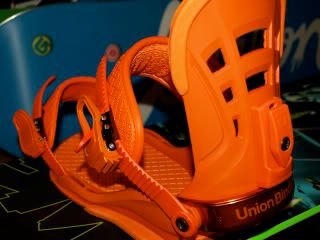 Let me start off by saying that these bindings are probably THE lightest bindings I've ever picked up...redonkulously light.
Previous to riding these I've ridden Burton Cartel's for years and years, and I always figured I'd be riding them for years to come. After riding these masterpieces from the guys at Union though, I don't know...I think I may have a new favorite for years to come.
They're a really soft binding providing lots of response at the same time...a winning combo. Very little of the actual baseplate comes in contact with your board which let's your board have a more natural feeling flex. I really like the baseplate cover that protects the disc and screws from snow and grime (and screws from loosening). They have Magnesium buckles which are twice as light, and four times stronger than Aluminum. The people over at Union are saying that their Extruded Anodized Aluminum Heelcups are completely indestructible, which I'm going to go out on a limb and believe because, well...because they say so that's why.
Over all I find these bindings to be bombproof. If I could make any suggestions they would be; 1. I wish there was a better way to rotate the highback, more along the lines to what Burton bindings have going, and 2. I wish there was some place on the binding to attach a leash, because I couldn't find anyplace. Ok. That's it. Go out and buy these bindings because YOU WILL LOVE THEM!