New First and Last today with the incredible Sean Genovese from Dinosaurs Will Die Snowboards. After you're finished reading his First and Last be sure to check out Sean and everything DWD over at their recently launched new site, DinosaursWillDie.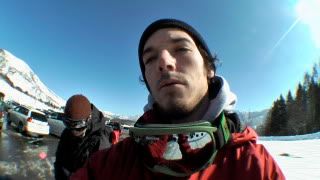 first pet…fish. 2 guppies.
first car you owned…VW.
first trick you learned…scorpion.
first shredder you looked up to…craig kelly.
first contest you won…I'll let you know.
first person to call when you win the lottery…travel agent.
first mountain you rode…Mt.Baker.
first set up (skateboard/snowboard)…first snowboard was called Monster, got it at sportmart. First skateboard was from kmart I think… it said "hands off" on it with all these pink hand print on it.
first concert…some local punk show. A band called CAN.
first thing you do in the morning... check my email.
first big purchase…diskman.
first sponsor…a board company called spiral.
first job…paper route.
last thing you ate…eggs benny.
last person you called…Surrey Stu.
last text you sent…got no cell phone.
last thing you do before going to bed…check my email.
last time you said "last time…this morning, mid hangover.
last concert…AC/DC.
last mountain you rode…Hood.
last movie you watched…Gomorrah.
last close call…last night.
last big purchase…camera light.
last thing that surprised you…cops that rolled up behind me while I was peeing.
last regret...peeing on the sidewalk.