I recently had the chance to check out Dinosaurs Will Die snowboards' 10/11 line up and wanted to let you all know what they're bringing to the table for this coming season.
First up is the Rat Maet. It's DWD's reverse camber deck. You can pretty much take this thing anywhere at your local mountain and have a blast on it...but it's designed with a jibber in mind...nice graphics to boot too.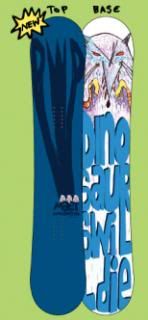 Next we have the Maet. It's pretty much the Rat Maet minus the Rat (it features traditional camber). The Maet excels at the jibs but you can take it wherever the heck you want and you're sure to have good times...again, wonderful graphics.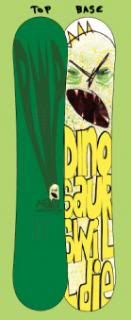 This here board is the Genovese, which is Sean's pro model. In a sense, this is Sean's swiss army knife of a snowboard. He uses it to whittle sticks, slice through butter, skin defenseless rabbits, and sometimes it even comes in handy when defusing a hydrogen bomb nestled deep within the dark caverns of the temple hidden on the island. Graphic-wise, I refer to this board as the "Mona Lisa" of the pack.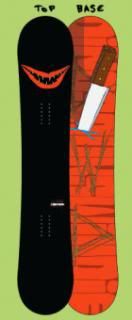 Lastly, we have the Kwon. If there was one board that Wu-Tang master Raekwon the Chef was going to be on while slashing through backcountry powder like a samurai sword through some treacherous adversary, this would be it. And yes, as always, sickening graphics.

I advise you to hit up your local shop for one, or all, of these fine Dinosaurs Will Die boards as well as other DWD products. if you're having trouble finding DWD products be sure to head on over to their site (I have their link listed here) and find the dealer nearest you.