One of the guys I've been fortunate enough to get in touch with is the Ohio native Kristian Svitak, owner and team rider of 1031 skateboards and Landshark wheels. He's been super cool and hooked me up with a lot of the other riders for his companies to bring you more First and Last's every week for a while. I wanted to say thanks to Kristian and everyone at 1031 and Landshark. Be sure to visit their sites and and give them the support they deserve.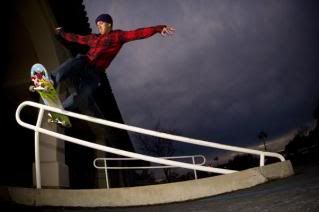 first pet… Tigger my old cat
first car you owned… 84 0r 86 Plymouth Reliant K. Sick!
first trick you learned… f/s slob boneless
first shredder you looked up to… Guys on Team Insanity
first contest you won… Probably some weird Cleveland local contest?
first person to call when you win the lottery… Mom.
first skate park you rode… Berea roll and bowl
first set up (skateboard)… Nash Nightmare
first concert… Kiss, Asylum tour 1984 or 85?
first thing you do in the morning… Feed my dog, Oscar
first big purchase… My old Honda civic. I think it was $7,000.00?
first sponsor… Soul Grind skate shop in San Diego. I went to S.D. in 93 for a month. They sponsored me and then I moved back to Ohio.
first job… Mowing lawns when I was 15.
last thing you ate… Chocolate chip cookie
last person you called… Mario Miller
last text you sent… Never!
last thing you do before going to bed… Watch Frazier
last time you said "last time… Yesterday trying some dumb trick
last concert… Carcass?
last skate park you rode… Some crap in Long Beach
last movie you watched… Last night, The Blind side
last close call… Everytime I get in a car. Driving is sketchy. False sense of security.
last big purchase… Just dropped a grip on Getting some dental work done for Oscar.
last thing that surprised you… That Oscar my dog has healthy teeth!
last regret… I volunteer at the local Humane Society once a week. And the other day I had this great female pit out for a walk. She wanted to just lay in the grass so I decided to take her to a play yard and relax with her. When I took her past another play yard another female pit popped open the gate and attacked the dog I was with. I tore eachothers face up pretty bad. I had to throw my arm in and grab the other dogs collar and pull 2 raging pit bulls apart like He-Man. It sucked! I regret taking her to that play yard. We should have just kept on our walk.