First and Last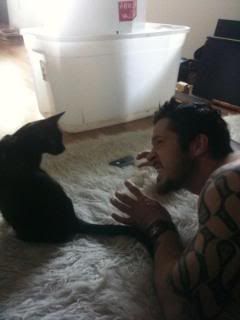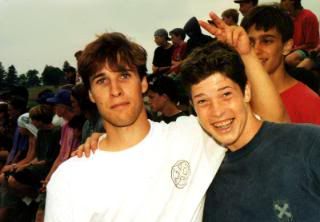 first pet… Hiedi, little grey, miniature schnauzer. She had a rad beard
first car you owned… Silver 1987 Toyota Corolla
first trick you learned… 360 spin
first shredder you looked up to… Bill Minnadeo
first contest you won… Some miniramp contest at Sunsports Skatepark in Columbus Ohio. Somewhere in the early 90's
first person to call when you win the lottery… Svitak, to tell him I quit his lame board company.
first skate park you rode… Berea Roll-N-Bowl near Cleveland. That place ruled.
first set up (skateboard)… Black Caballero (the dragon on a gold disc), Indy trucks with OJ II's.
first concert… Stray Cats at the Ohio State Fair! Shit was bad ass!!
first thing you do in the morning… Smoke a cigarette on my way to get coffee.
first big purchase… He-man's buddy, Man-at-arms. Took $6 out of my savings account to buy him. That was a big purchase, relatively speaking.
first sponsor… H-Street
first job… Bag boy at Kroger
last thing you ate… beef jerky
last person you called… My friend Larry, on my way to his place out in the middle of nowhere.
last text you sent… To Larry: "The girl in the trunk doesn't speak english, relax, I will be there soon ball-sack man." But i sent it to my friend Tamie instead by accident.
last thing you do before going to bed… Remind myself to be grateful for everything in my life.
last time you said "last time… I'm trying this. So I'm landing on it regardless."
last concert… RJD2. I used to skate with him in Ohio.
last skate park you rode… Shred Ranch... I think that counts.
last movie you watched… The Ghost Writer
last close call… "Chad, I'm a month late..."
last big purchase… 10 call options of Intel - June 19 2010 - $22 strike
last thing you ate… Still beef jerky
last thing that surprised you… Every morning when I wake up not hung over.
last regret… buying 10 call options of Intel - June 19 2010 - $22 strike...