I was fortunate enough (thanks people at Weekend) to get my hands on the Heikki Sorsa "Adventure Island" 155 from Weekend snowboards, so that in turn, I could give you guys an honest review of it. So here it goes.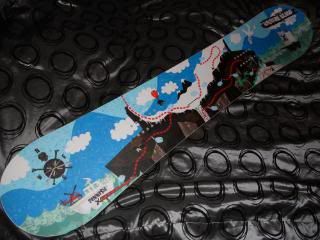 This board is fun as heck, "no doubt...no doubt in my mind." (first person to comment where that quote is from will get some free stickers). The Adventure Island 155 is the all around, swiss army-like board in Heikki's arsenal of pro models available from Weekend. Where ever you want to go, this board will take you there, and then some....groomers, park, powder, rails...your ass is covered (in some Bond Talma's, I hope).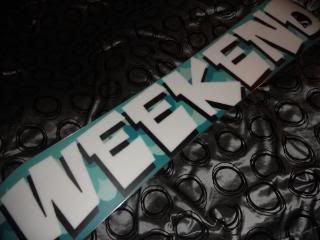 The graphics are killer, done up by the notorious Sean Barnhart. One thing I really like about this board (which really plays no role in the performance side of the board) is the texture of the top sheet. Back when I was in high school, a buddy of mine got a Division 23 Marc Morisset and it had the same type of textured feeling top sheet. So, yeah, just feeling this board out of the plastic brought back some good 'ol memories.
In closing, I'd like to say that this board slays the slopes of 7 Springs and I'm positive it'll get you through whatever situations you find yourself in at your local mountain. Head on over to
the weekend site
to check out what they have to say, read up on all of the technical info, and they also have a nifty little online shop where you can actually purchase said model if you feel so inclined. DEW IT!!!