first pet...
A CAT NAMED "PECHI"
first car...
TOYOTA CAMRY 1994
first time someone called you "The Butcher"...
1998, JAKE PHELPS
first trick you learned...
TIC-TAC
first skateboarder you looked up to...
TONY HAWK
first contest you won...
AM CONTEST, WHEN I WAS 16, IN ARGENTINA.
first person to call when you win the lottery...
MY WIFE MABEL
first cover...
GOSSIP MAGAZINE(ARGENTINEAN MAGAZINE) IN 1994.
IN THE USA, SLAP MAGAZINE 1998
first skate park you ever skated...
MUNRO BOWLS IN ARGENTINA, WHEN I WAS 11.
first skateboard...
SOME SHITTY BOARD WITH GLUE AND SAND ON TOP, INSTEAD OF GRIPTAPE
first time you saw Ed naked...
SOMETIME AROUND 2002
first concert...
LOS BRUJOS
first thing you do in the morning...
TURN ON MY ESPRESSO MACHINE AND MAKE COFFE
first ad in a magazine...
I HAD A BUNCH IN ARGENTINA, BUT MY FIRST AMERICAN AD WAS THE INDY AD DOING KICKFLIP BS TAIL DOWN HUBBA
first big purchase...
MY APPARTMENT IN LONG BEACH
first sponsor...
METRO
first job...
WEAT PASTING BILLBOARDS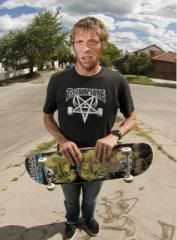 last thing you ate...
DUCK WITH RICE
last person you called...
MY FIEND NACHO
last time you cut your hair with one of those comb/blade things...
A FEW WEEKS AGO, JUST TO TRIM THE SIDEBURNS
last text you sent...
MEET YOU AT THE SPOT
last thing you do before going to bed...
BRUSH MY TEETH
last time you said "last time"...
LAST WEEK WHEN I TRIED TO SKATE A SHITTY SPOT IN TOWN. ILL PROBABLY GO BACK.
last concert...
OASIS
last skate park...
BRUSQUITAS, IN MAR DEL PLATA (BEACH TOWN 4 HOUR AGO FROM BUENOS AIRES)
last time you skated Wallenberg...
8 YEARS
last time you saw Ed naked...
BRAINWASH TOUR
last movie you watched...
STARWARS ALL OF THEM
last close call...
DONT REMEMBER
last trick you filmed...
FS SMITHGRIND
last big purchase...
MACBOOK PRO
last thing that surprised you...
LEO ROMERO SKATING